Happy June ! 
Alzheimer's & Brain Awareness Month
Every year, the Alzheimer's Association designates the month of June as "Alzheimer's and Brain Awareness Month," a time to raise awareness about a disease that affects millions of Americans and their families, as well as to demonstrate solidarity and support for finding a way to end Alzheimer's and other forms of dementia.
Current Statistics to Know About
Why is it so important to raise awareness about Alzheimer's and other types of dementia? Let's take a look at a few important numbers provided by the Alzheimer's Association:
About 6.5 million Americans live with Alzheimer's disease. That number is expected to double by 2050. A new diagnosis of dementia in this country occurs about once every 65 seconds.

About 1 in 9 seniors over age 65 have Alzheimer's or another form of dementia.

About 2/3 of Alzheimer's patients are women.

Dementia hits minority populations disproportionately. Black people are twice as likely to develop dementia as white people; Hispanics are 1.5 times more likely.

11 million people act as unpaid caregivers for people living with dementia.
How You Can Help
The two main ways you can help the cause this month are by raising awareness and providing support. The following are some tangible ways you can do both:
"Go purple." Purple is the color used for Alzheimer's awareness. Wearing purple clothing or purple ribbons and using the color purple on social media profiles are just a few ways you can spread the word during the month of June.
Share on social media. If you have a friend or loved one living with Alzheimer's, share your story on social media using the hashtag #ENDALZ. You can also simply post in solidarity using the same hashtag and purple colors.
Volunteer. Many great organizations can use help fighting Alzheimer's, whether it's by caring for patients or spearheading fundraising efforts. Use the opportunity this month to find your own place in the cause.
…
---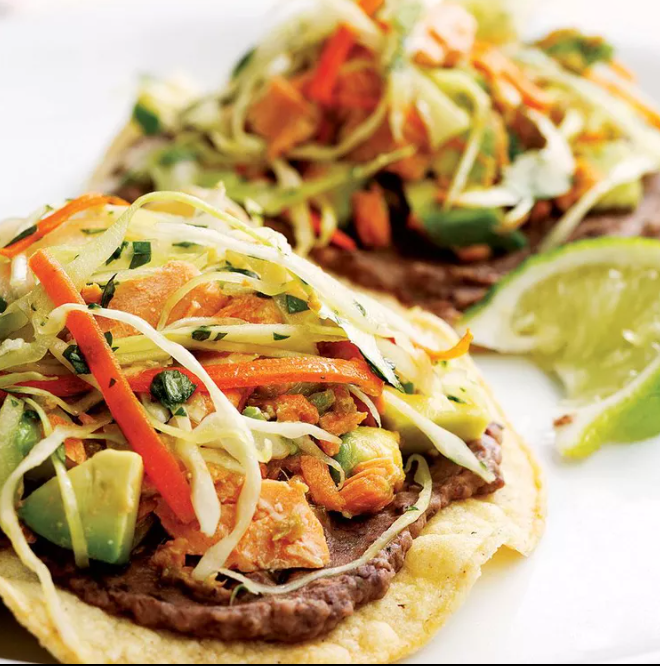 Eat for a sharper mind with this healthy dinner recipe to boost brain power. Adding omega-3-rich ingredients, such as oily fish, to your diet, as well as iron-rich foods, such as beans, and water-rich foods, such as leafy salad greens, can support healthy cognitive function.
Black Bean & Salmon Tostadas
Pickled jalapeños, cilantro and avocado perk up convenient canned salmon for a quick tostada topping. Skip store-bought and make your own crispy shells in the oven. Serve with: Brown rice cooked with diced tomatoes and onions or salsa.
Ingredients
° Canola oil cooking apray
° 1 6- to 7- ounce can boneless, skinless wild Alaskan salmon, drained
° 1 avocado, diced
° 2 tablespoons minced pickled jalapeños, plus 2 tablespoons pickling juice from the jar, divided
° 2 cups coleslaw mix or shredded cabbage
° 2 tablespoons chopped cilantro
° 1 15- ounce can black beans, rinsed
° 3 tablespoons reduced-fat sour cream
° 2 tablespoons prepared salsa 
° 2 scallions, chopped
° Lime wedges (optional)
Directions
Position racks in upper and lower thirds of the oven; preheat to 375 degrees F.

Coat tortillas on both sides with cooking spray. Place on 2 baking sheets. Bake, turning once, until light brown, 12 to 14 minutes.

Combine salmon, avocado and jalapenos in a bowl. Combine cabbage, cilantro and the pickling juice in another bowl. Process black beans, sour cream, salsa and scallions in a food processor until smooth. Transfer to a microwave-safe bowl. Cover and microwave on High until hot, about 2 minutes.

To assemble tostadas, spread each tortilla with some bean mixture and some salmon mixture and top with the cabbage salad. Serve with lime wedges, if desired.
Tips
Kitchen tip: Look for convenient preshredded cabbage-and-carrot "coleslaw mix" near other prepared vegetables in the produce section of the supermarket.
Cut Down on Dishes: A rimmed baking sheet is great for everything from roasting to catching accidental drips and spills. For effortless cleanup and to keep your baking sheets in tip-top shape, line them with a layer of foil before each use.