Happy July !
UV Safety Awareness Month
History of UV Safety Awareness Month
U.V. Safety Awareness Month is held during summer when most of us spend more time outside making the most of the warmer weather. The longer your exposure, however, the greater your risk of sun damage if you're unprotected. The sun emits radiation in the form of Ultraviolet or U.V. light, which is classified into three types: U.V.A., U.V.B., and U.V.C. The ozone layer protects the Earth's stratosphere and blocks the most damaging U.V.C. light, but U.V.B. and U.V.A. light pass through it. U.V.C. radiation can come from artificial sources such as sunlamps or tanning beds.
Radiation from U.V. light is invisible but is always present during the day even when you can't see or feel the sun. These rays can be harmful to our skin and eyes. Aside from wrinkles and sunburn, exposure is associated with the development of skin cancer. Our eyes can be affected by cataracts, cornea damage, and vision loss if left unprotected in the long term.
The sun is at its peak between 10 am to four pm. Head indoors or under shade during these hours. If you stay outside longer for work or play, sunscreen with a high S.P.F. of at least 30, a broad-brimmed hat, sunglasses, and breathable clothing that covers you up can offer the most protection. U.V. rays can pass through clouds. They also reflect off surfaces like sand, snow, cement, and water. That's why sun protection is important in any season, all year round.
How to observe UV Safety Awareness Month
Head to the water

Beat the heat with a dip in the pool or a swim in the ocean. An impromptu garden hose shower can be delightful. Just be sure to avoid the sun during peak hours and reapply sunscreen afterward if you'll be spending more time outdoors.

Wear a fun hat
Sun protection and fashion can go hand in hand. Play with colors, prints, and unexpected shapes. Choose one with a wide, all-around brim for the best coverage.
3. Propose a toast
Remember kicking back with a drink in hand and the breeze in your hair we mentioned earlier? Do it, but in the shade of course! Gather your friends, some drinks (non-alcoholic or otherwise, they all count), and raise a glass to congratulate yourselves on enjoying the summer sun sensibly.
---
……
…..
---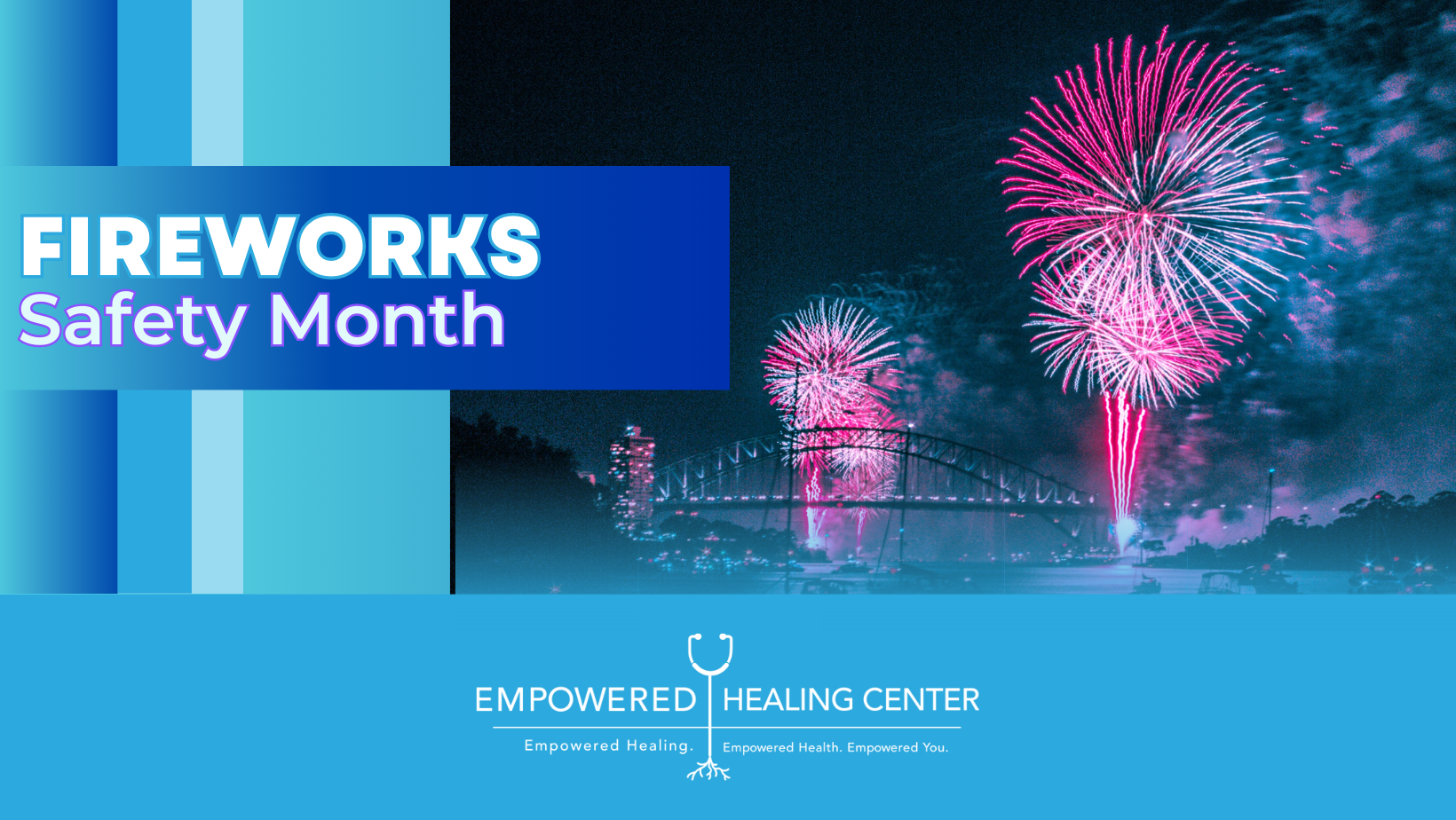 Fireworks Safety Month
With the Fourth of July nearby, it's important to know the potential risks and the precautions one should take.
The National Safety Council advices to avoid consumer fireworks and only attend public displays conducted by professionals.
Fireworks not only cause burn and eye injuries, but they're the cause of thousands of structure and vehicles fires, and deaths. The best thing to do is to be an advocate for the safe use of fireworks in your community and let the professionals handle the work, to avoid the consequences of malfunctioning and careless use. Be safe this summer and enjoy the local fireworks show at a safe distance!
Rules to follow:
Obey the laws of your state.

Never handle fireworks under the influence of drugs and/or alcohol.

Never ignite fireworks indoors.

Never ignite them inside a container.

Remain a significant distance away from the fireworks.

Never allow children to handle fireworks, including sparkles (they burn at 2,000 degrees).

Minors should always be supervised by adults.

Do not try to re-light malfunctioning fireworks.

Keep a bucket of water nearby in case of having to extinguish fire or malfunctioning fireworks.

Soak fireworks in water before discarding them.

Never throw fireworks at someone.