Happy October !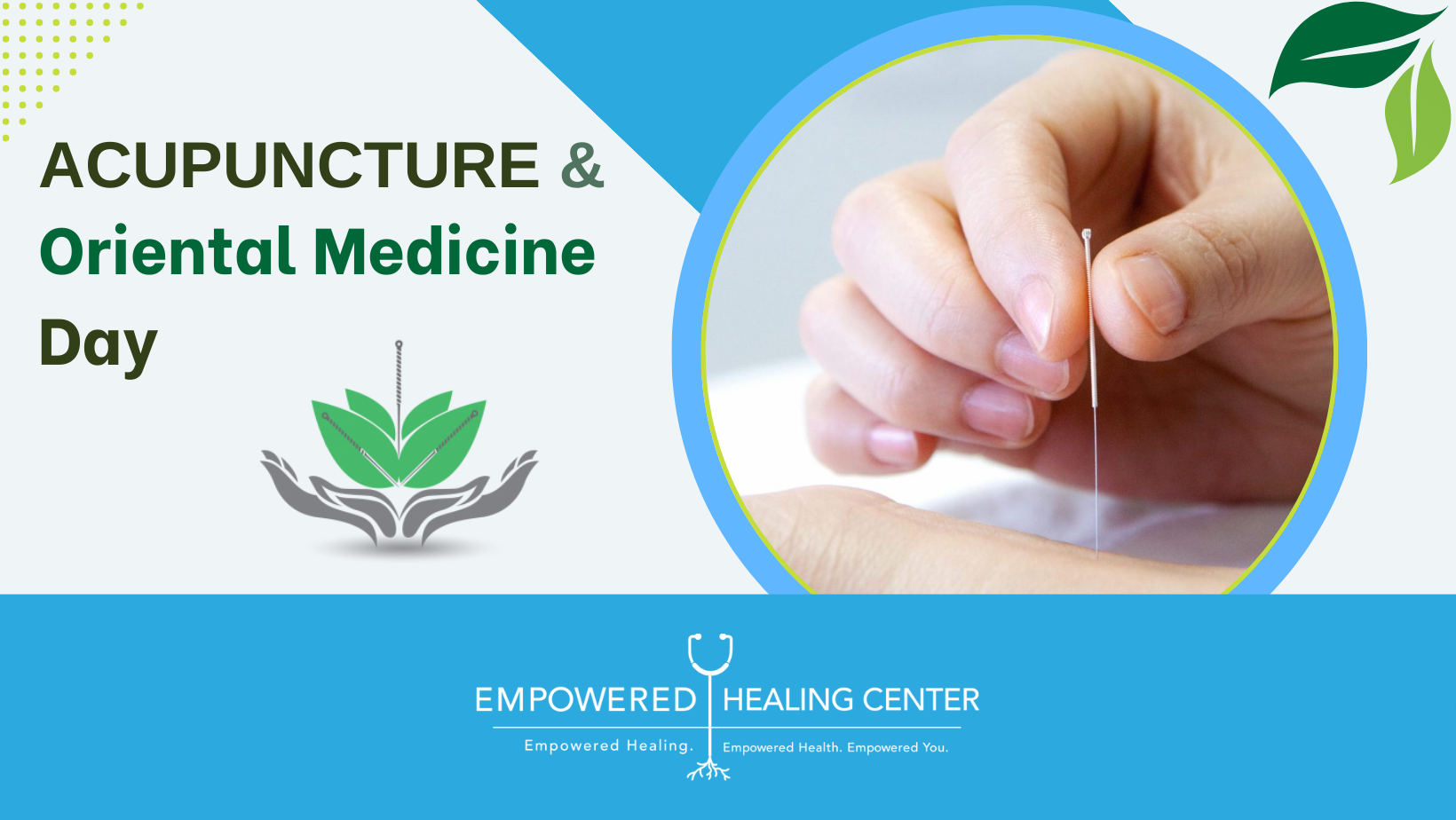 Acupuncture & Oriental Medicine Day
Created by the National Certification Commission for Acupuncture and Oriental Medicine (NCCAOM), AOM Day seeks to increase public awareness about Alternative medicine. It also shows the progress, promise, and benefit of Complementary and Alternative Medicine.
Short Overview
Traditional Chinese Medicine and Acupuncture is a medicine that is thousands of years old. It promotes health and balance within the body. There are 12 meridians, or channels, each corresponding to a different organ. They run along the length of the body from the fingertips all the way up to the head and down to the toes. Also, along the meridians are specific acupuncture points that each have certain actions and indications when they are used. Overall, Chinese Medicine treats the whole person, getting to the root of the issue, not just the symptoms.
History
Acupuncture was first recorded in the Huang Di Nei Jing, The Yellow Emperor's Classic of Internal Medicine (2600 BC). It continued to develop over the centuries. During the Ming Dynasty, Chinese medicine and Acupuncture became the mainstream medicine practiced and used in China.
Are there different types of acupuncture?
Acupuncturists who follow more traditional/ancient Chinese principles focus exclusively on directing the flow of qi (pronounced "chee"), or energy, through your body. Modern acupuncture applies Western medicine, using needles to stimulate your body's systems. Many acupuncturists use a combination of both approaches.
Another acupuncture approach treats myofascial pain. This common condition involves muscles and their connective tissue. When muscles are stressed, strained or injured, they often form trigger points — tight, painful knots. A trigger point in one muscle can create pain in a different area of your body (referred pain). Acupuncturists can use trigger point therapy to ease myofascial pain. They use needles to try to "unknot" the trigger point.
The needles stimulate your body's central nervous system and immune system to:
React to an illness or symptom.

Rebalance your body.

Release natural chemicals, such as endorphins, your body's natural painkillers, and neurotransmitters, chemicals that control nerve impulses.
What are the benefits of acupuncture?
Acupuncture benefits include relief from long-term (chronic) pain and other health conditions. Many people use acupuncture to relieve pain throughout their body, including for migraines, back pain and arthritis. Studies have also shown that acupuncture may be a successful treatment option for a variety of conditions, including immune system issues, infertility and the effects of menopause.
……
---
……
---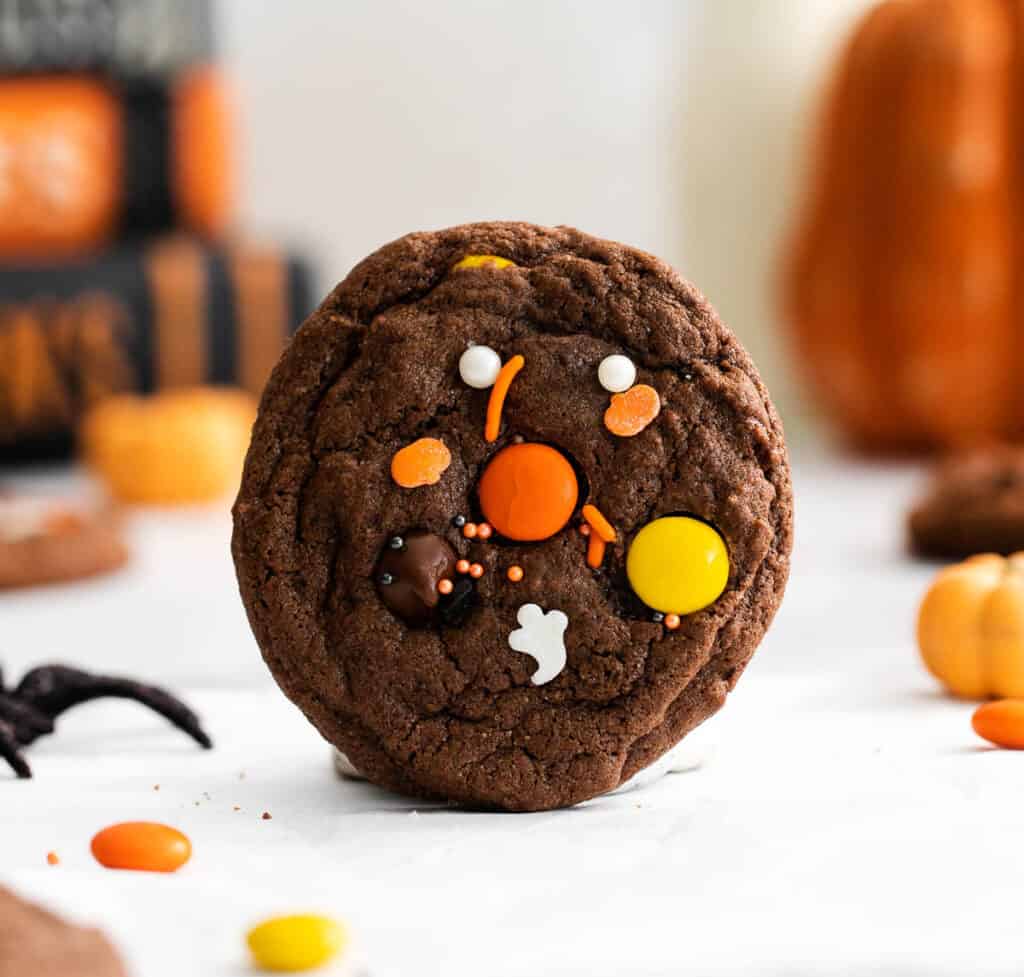 Gluten-Free Halloween Cookies
These gluten-free Halloween cookies are fudgy, chewy, brownie-like treats! They're EASY-to-make, festive, and the perfect amount of spooky!
Ingredients
Dry ingredients
1 1/2 cups gluten-free 1:1 baking flour 

1/4 cup almond flour 

1/2 cup unsweetened cocoa powder

1/4 teaspoon salt

1 teaspoon baking powder

1/2 teaspoon baking soda
Other
1/2 cup butter room temperature

1/4 cup coconut oil preferably in softened solid form

3/4 cup lightly packed brown sugar

1/2 cup granulated sugar

2 large eggs

1 teaspoon vanilla extract

1 cup Reese's Pieces

1/2 cup chocolate chips milk chocolate or semi-sweet

Halloween sprinkles optional
Instructions
In a medium bowl, whisk together the dry ingredients. Set aside.

In the bowl of a stand mixer (or in a large bowl with an electric hand mixer), add the butter, coconut oil, brown sugar, and granulated sugar. Cream together until well-mixed, 2-3 minutes.

Add the eggs and vanilla extract. Beat to fully combine. With the mixer running on low, slowly add the dry ingredients in 3 additions, beating well after each addition.

Stir in chocolate chips, Reese's Pieces, and sprinkles, if using. Cover and refrigerate the dough for at least 1 hour and preferably overnight.

When you're ready to bake the cookies, preheat the oven to 350F. Line two large, rimmed baking sheets with parchment paper or silicone liners. Scoop the dough and shape into heaping tablespoon-sized balls (I use a #40 cookie scoop).

Place the dough balls a couple inches apart on the prepared baking sheets. Bake for 11-13 m

i

nutes, until the edges are set and the center is mostly set. Cool the cookies for 3-4 minutes on the pan, then transfer to a wire rack to cool completely. Enjoy!
Notes
Make it DAIRY-FREE: Use vegan butter in place of the butter. Use 1 ½ cups of dairy-free chocolate chips in place of the candy/chocolate chips. Semi-sweet work great, and you can really use any chocolate chips you like!
Make it NUT-FREE: Use another ¼ cup gluten-free 1:1 baking flour in place of the almond flour. 
Recipe Notes
Refrigerating the dough

keeps it from spreading too much when baking. Also, gluten-free flours don't absorb fat as well as regular flour, so the extra resting time prevents dry, chalky cookies.

Xanthan gum

is necessary in most gluten-free cookie recipes to help stabilize the dough and keep the finished cookies from falling apart.

A longer baking time

is sometimes needed, so keep an eye on the cookies. Don't be afraid to leave them in the oven for 2-3 minutes more than you would regular ones.